Reducing Our Plastic Footprint in the Midst of a Pandemic
Due to the COVID-19 pandemic, plastic usage is increasing with the need for personal protective equipment such as gloves and masks. When this equipment is not properly disposed of, it adds to the amount of plastic already present in the air.
"Both plastic waste and plastic production destroy habitats," said senior Luna Johnston (Adv. 108). "There's plastic waste in our landfills and even in the prairie at Northside. It's everywhere."
Johnston is a part of Northside's Green Team, whose mission is to get students to be more connected to the environment around them. She described how people can take action in their community, "During the school year, we do litter pick ups, and it's fun and you're outside and everyone is involved. And you can do that for your own community, otherwise it goes into the deep tunnel system and landfill. Just pick [the litter] up and take care of the habitat around you to improve your area."
"
Just pick [the litter] up and take care of the habitat around you to improve your area"
Plastic contributes to the emissions of greenhouse gases ethylene and methane. Low-density polyethylene (LDPE) releases these toxins, and many of us have this type of plastic in our pantry full of Ziploc bags and storage bags. The toxins from these plastics, in turn, show up in oceans, landfills, and our everyday environments. When plastic is left out longer, the more toxins it emits.
Despite the mass consumption of plastic, people can still work on reducing their plastic usage. First, they can wear cloth masks and use hand sanitizer or disinfectant instead of continuously discarding plastic gloves. Also, they can use reusable dish cloths and rags to clean surfaces as an alternative to paper towels. Similarly, they can mop the floor using cloth instead of using one-time mopping sheets.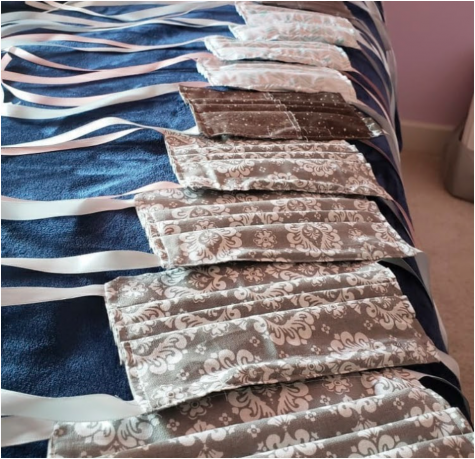 Additional ways to be more sustainable include bagging your own groceries in cloth totes. Johnston mentions that her family uses their own bags to put their groceries in and also uses their own bags to wrap their produce instead of using the thin plastic ones.
She also says, "There are 'zero waste stores' in Chicago. If you want to go the extra mile and bring containers, you can do it. Pick up products that aren't single-use."
Per Johnston's advice, at restaurants, people can even turn down single-use plastic and instead bring their own Tupperware or glass containers. They also can properly dispose of and recycle their garbage, opt-in using their own cup for coffee when possible, and use their own silverware when ordering take-out.
If one does use plastic, make sure to reuse it. If Johnston and her family use ZipLoc bags, they make sure to reuse it. They also have a bin of plastic bags and use them for different functions.
Plastic usage during the pandemic has risen, but everyone can make more sustainable decisions that can keep them and others safe. One can further reduce future plastic usage by opting in for more long-lasting, reusable methods, leaving the single-use plastics and PPE to hospitals and to those who urgently need it.