Students' Thoughts After the 2020 Election
On Saturday, November 7, former Vice President Joe Biden was projected the 46th president of the United States by decision desks at major news outlets including CNN, Fox News and the Associated Press.
We checked in with the same eight students interviewed just before the election began to see their thoughts on the outcome.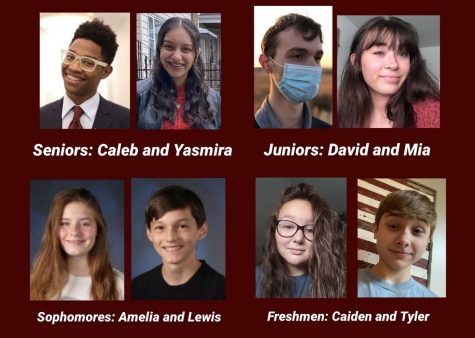 Here are the questions:
How do you feel now that this election is over?
What, if anything, surprised you about the results of this election?
What do you think made this election particularly significant?
What does the future of the United States look like to you with Joe Biden as president?
David Dobria (Adv. 201):
Relieved. If nothing else from this year gets resolved, at least the election is over.
Georgia leaning blue was a bit of a shock, as typically the mid-South/Southeastern states are predominantly Republican strongholds.
The election's significance comes down largely to COVID-19, as the already insane circumstances of the election… have been amplified by the sudden and universal shift in lifestyle.
It all depends on whether the Democrats gain control in the Senate as well as the House, as a Republican Senate may serve as a roadblock for the Democratic Party's policies.
Caiden Reichmann Crowley (Adv. 408):
Relieved. There was so much tension and anxiety going into this election. Now that it's done, I feel a lot better.
I was surprised that the votes were so close. Honestly, after four years of President Trump, I was very surprised at the number of people still voting for him.
I think this election was significant because the political parties have become very polarized, and both parties… especially Democrats had a lot on the line.
Hopefully, a future where basic human rights are set in stone for all people, and the future of both our nation and our planet is protected.
Caleb DeBerry (Adv. 103)
Relieved. But, I'm still a bit anxious about the work that we're gonna have to do over the next four years.
One of the biggest things that surprised me this election was Georgia trending blue, as well as Texas being much closer than I originally expected. Some things that were surprising and disappointing were the Senate results and still having no idea which party will control the chamber.
One of the most obvious significance of the election is Senator Harris as the first woman and the first woman of color elected as vice president, as well as the Democratic message finally seeping into the solid South.
For me, I see this future as just a little bit brighter, but I still believe it's up to us to make sure that we get as much as we can out of this administration. We settled for Biden this time around, but we need to make sure that we hold him accountable in the years to come.
Yasmira Cortez (Adv. 105):
I feel like a weight was kind of lifted off my shoulder. There was just a lot of built up tension for the past year and especially during the ballot counting process.
Nothing really surprised me but what was interesting was how close the election was. I'm not surrounded much by those who support Trump, so it was interesting how there are a lot more people than I thought that supported him.
I believe what made this election particularly significant was how much more Americans really went out to vote and make sure their voices were heard. From social media especially I saw a large amount of people talking more about making their voices heard and advocating for change.
I believe that with Joe Biden as president the U.S. will work towards achieving unity again… Trump kind of increased the divide between Americans, and I hope that with Biden as president there will be an advocacy for changing institutions.
Lewis Libby Watt (Adv. 309):
I feel just relieved that it is over. I am really curious to see how the last couple months of Trump's presidency pan out, a little nervous admittedly.
I was not totally surprised that Biden won, to be honest. But I was sort of surprised that more Latinx people voted for Trump, particularly in places like Florida and Texas. I have heard different reasons why, but it is certainly interesting, if nothing else.
I think what made this election so significant was the mail-in ballots and the really strange effect of having to wait on the results of an election on American society over the course of like three days. It felt like political limbo.
I think we will not be laughed at as a country on the world stage by electing somebody who does not just [put] out whatever he is thinking. I think we are moving in the right direction, but there is no doubt that Biden's age and visibly deteriorating mental condition will be the main aspects of his presidency that are criticized and will probably affect the next election cycle, which I myself will proudly be voting in.
Mia Finley (Adv. 206): 
The morning that we received the election results felt like the biggest relief of a 4 year weight on my shoulders. I am very excited for January 20th, 2021, when our country will get back on track, and we can keep fighting under a more susceptible president for the future of our nation. It was really beautiful seeing everyone in the streets dancing and beeping their horns, and I'm super hopeful for what Biden can do. 

I was shocked that states like Georgia and Pennsylvania went blue, because they were swinging back and forth for a few days… I was also surprised by the number of people in Illinois that voted for Trump! I get very caught up in the fact that we live in such a progressive city that I forget we live in the middle of cornfields and, apparently, lots of Trump supporters.

This election saw record breaking numbers of voters going to the polls, voting early, and mailing in their ballot. Americans were treating this like the most important election of American history, and for many people, their lives and rights were on the line, so it was the most important election. 

I see a future of structure, productivity, and unity. In his speech, Biden made it clear that he wanted to unite our country again, and not treat our opponents lesser than, but as equals. I hope that Biden's belief in science will help the pandemic and get us back on track to fighting for normal, instead of just accepting this lifestyle. And of course, Kamala Harris is paving the way for other women and women of color to pursue politics and potentially be in the White House. 
Tyler McHugh (Adv. 407):
I feel a sense of relief that the election is over. There was a lot of tension.
Nothing really surprised me that much, but it was fun to watch.
This election is particularly significant because it's during a pandemic, and that became one of the main topics that people started to focus on when choosing their president.
The future of the United States looks nice with Joe Biden, as he says he will do great things. I am very excited.
Amelia Baurer (Adv. 301):
I mostly feel relief, but I know that President Trump is still the president. He can do a lot of damage. I also worry that real change will not be brought about with President-Elect Biden.
I wasn't astonished by anything, but I was pleasantly surprised to see how many people from the [Native American] reservations showed up given their history with voter suppression.
I think the number of people who voted really made this election noteworthy.
I am hopeful that it will become less divided, but I know that not much will change and certainly not the upheaval of a broken system we need. I feel very cautious, and I am anticipating less hate and divisiveness.