Winter Spirit in Chicago's Downtown
Winter season is the perfect time to drink hot cocoa, binge watch classic movies, and build snowmen. Our names are Andrea and Cely and we took a trip around downtown Chicago to check out a couple of the festive activities and events happening during this wintertime season. 
We started our trip by hopping off the train at Union Station and taking a short bus ride over to Christkindlmarket in Daley Plaza. The area was packed with people getting their holiday gifts and food from multiple vendors at the market. While we waited, we took photos around the market. The hot cocoa (pictured) was absolutely delicious! Not only that, but we were able to take the mug home with us. While we were sipping on our hot cocoa and eating our gingerbread cookie, we walked a little bit more around the market. Vendors were selling everything from toys and clothes to jewelry and crafts. 
As we finished our hot cocoa, we headed to Millenium Park which was only a short walk from Christkindlmarket. The park was packed with people skating around the ice rink and others waiting in line to go onto the rink. We first stopped at the Bean, took some photos, and then moved onto Maggie Daley Park. While we didn't skate, we saw all the ice skaters and different people enjoying the warm weather at Maggie Daley.
We headed back to Millenium Park to get a better look at the 55 foot-tall Christmas Tree, which is about 11 times taller than both of us! Walking around the tree, we admired all the beautiful lights and ornaments. As we walked to find some food to eat, we listened to the music being performed on the street and saw the trees along the street side at Millenium Park being dressed up in stunning yellow lights.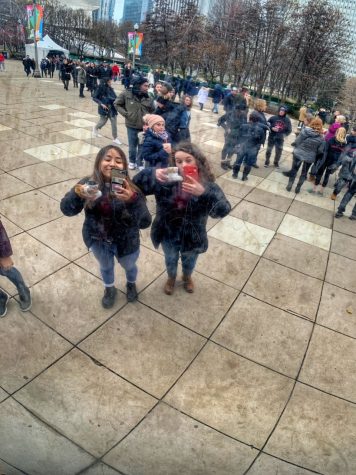 As we decided to start making our way back to Union Station, we checked out a few more spots on the way home. We went through a hotel to stop for lunch at Shake Shack. After lunch, we made our way onto State Street, did some window shopping, and eventually made it to Macy's. We walked in and saw the glamorous decor inside the store, including the horns on the outside of the store above the doors. We then made our last stop walking through Block 37, checking out some of the stores, doing some quick holiday shopping, and looking at all the incredible decor inside the mall. Once we finished our shopping, we took the bus back to Union Station and took the train home. 
Overall, our trip was amazing and so much fun. Every place we visited was close to each other and was easy to access by bus or on foot if you don't mind a slightly longer walk. If you, your friends, or your family are looking for fun things to do, check out the heart of downtown! Look down below for additional information on most of the places we visited.
Christkindlmarket Hours
Monday: 11am-8pm
Tuesday: 11am-8pm
Wednesday: 11am-8pm
Thursday: 11am-8pm
Friday: 11am-9pm
Saturday: 11am-9pm
Sunday: 11am-8pm
Millennium Park Hours
 Open daily from 6am-11pm
*Take CTA to Millennium Park:
From the elevated lines: exit at Washington/Wabash and walk east.
From the subway: exit at Lake (Red Line) or Washington (Blue Line) and walk east.
Served by buses 3, 4, 6, J14, 20, 56, 60, 124, 146, 147, 151, 157
If parking, Millennium Garages are located at Millennium Park Garage and Millennium Lakeside Garage at 5 S. Columbus Drive, Grant Park North Garage at 25 N. Michigan Ave. and Grant Park South Garage at 325 S. Michigan Ave. Pre-purchase parking online and save up to 50% off drive-up rates.*
Macy's Store Hours
Monday: 8AM–11PM
Tuesday: 9AM–10PM
Wednesday: 9AM–10PM
Thursday: 9AM–10PM
Friday: 9AM–11PM
Saturday: 8AM–11PM
Sunday: 8AM–11PM
*The 52nd annual holiday windows at Macy's on State Street are open. The display will be open until January 5, 2020. This year's theme for the iconic  animated windows is "Believe in the Wonder." *
About the Contributors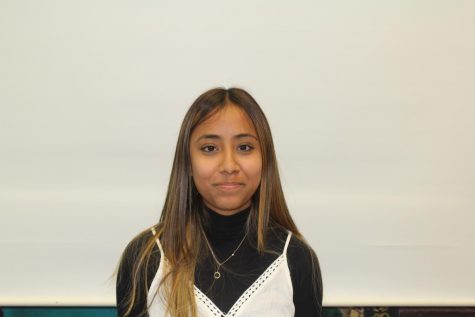 Araceli Urbina, Co-Photo Editor
One of Hoofbeat's Photo Editors. The type to enjoy setting up monthly playlists on Spotify.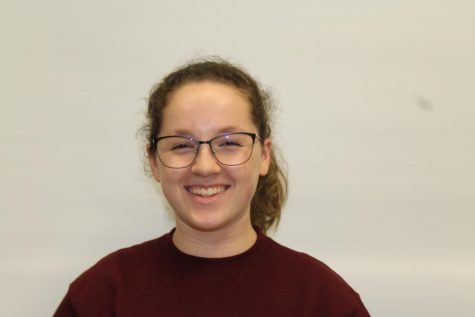 Andrea Prest, Co-Public Relations Manager
I'm the Co-Public Relations Manager for The HoofBeat. Most people would say "the deets," but I say "the tails." Just another explanation of innovation.