Following Senior Day
As sports rapidly approach the end of their seasons, underclassmen organize and partake in a celebration honoring their graduating seniors.
Senior Day is a cultural staple of nearly every Northside team. It has become a yearly tradition in which underclassmen surprise their senior teammates on the day of their last home game with decorated lockers, shirts, food, and posters. Teams cheer on their seniors during their final games and feast on pizza, cake, and other snacks. This tradition commemorates seniors for their hard work and aids in building team spirit.
"Senior Day is a way to give back to the seniors and show gratitude for all they've done for the team," says junior Elizabeth Lakoma (Adv. 101), who played a leading role in organizing Women's Tennis Senior Day. "It's a celebration where everyone has to pitch it by signing cards and designing posters. It's a team bonding activity because you have to delegate all these tasks and organize everything as a team."
It is a tradition that seniors excitedly await as they conclude their final year with their team. "I found out about what Senior Day was my freshman year when I joined Northside's Women's Swimming and Diving team," senior Kimberly Acosta (Adv. 007) explained. "I was relieved that after 3 long years, I would finally be the one that would be recognized for being a part of the team. I didn't have to worry about staying late nights after practice working on Senior Day planning and I was excited to see what my teammates would come up with."
Athletes also get to exercise their creativity by picking a theme for Senior Day. The themes range from movies and books to pop culture references. Throughout the years, Northside has seen creative themes such as Charlie's Angels, Shrek, The Office, and Toy Story, and many more. Characters related to the chosen theme are picked for each senior to embody. Acosta explains that her Women's Swimming and Diving Senior Day theme was the Madagascar animated film. She was assigned Gloria (the hippo). "My teammates actually wrote a letter explaining why each senior was assigned a certain character. They wrote that I was Gloria because I have her sassy attitude and love making jokes."
Planning for Senior Day begins many weeks in advance. Organizers usually first choose their theme. The team coordinates who designs and orders shirts, buys gifts, and brings art supplies and food. The day before, the team scrambles to create posters advertising the game and decorate the celebrated seniors' lockers. The team makes sure to keep the celebration a surprise. They are not allowed to reveal the theme or any plans for the event until the day of the game.
"The upperclassmen organized most of it, they just wanted us to help out on some bits," says sophomore Hailey Carter (Adv. 209). This year was her second year on the Women's Volleyball team. "We helped to decorate the gym before the Senior Day game. I also brought fruit for the [Senior Day] breakfast and did what I could to help decorate things and prepare."
On the day of the Senior Day game, team members wear their Senior Day shirts, bring food, and prepare for their game and the celebration that follows. "Senior Day is a lot of fun, a lot of work goes into it so it's really satisfying to see everything put together," Lakoma says. She explains that on the day of the event, the Women's Tennis Team held a banquet made up of food that members brought in to share, wore their Senior Day shirts, gave their graduating seniors gifts and cards, and cheered them on during their final match.
Ultimately, regardless of if the game was successful or didn't go as well as anticipated, team members leave with a renewed sense of team spirit. When seniors look back at their Senior Day game, they're able to recall the joy and spirit they shared with their team. Whether you're a senior, junior, or underclassman, Senior Day is a celebration enjoyed by every team member.
This year, The Hoofbeat is proud to feature photos from Senior Day in our Senior Day gallery. You may find these photos under the "Senior Day" tag. Students who wish to have their Senior Day featured in the publication may submit photos and/or videos to our "Senior Day Submission Form" on the Home page.
About the Contributor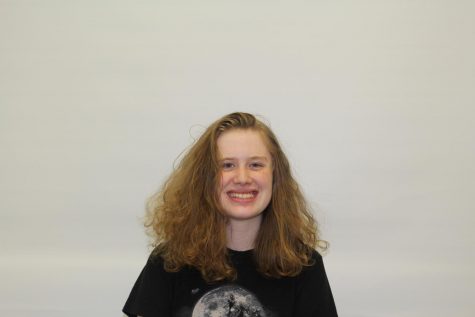 Iliana Garner, Assistant Editor




Iliana is a junior at Northside and is the Assistant Editor of the Hoofbeat. She loves being a part of The Stampede yearbook committee as the co-editor-in-chief...