Northside Freshmen: First Impressions of Northside
The first quarter of high school can be a very stressful transition.  Fortunately, many of Northside's freshmen are handling it with grace.
Many aspects of Northside can be very stressful for incoming students.  Some find it difficult because they didn't feel comfortable in the school yet. Sara Johnson (Adv. 302) said that the most stressful part was that "even though the passing periods were longer, I didn't know what the class numbers corresponded to yet. The block schedule was also scary at first." Northside's unique schedule is one part of our school that students have to simply adapt to and understand how it works.
Other new Northsiders found the new social scene to be the most intimidating. Anne Wilber (Adv. 309) says that her biggest fear in her first week of school was simply "finding people to sit with in classes," while Louis Posada (Adv. 308) said he was most stressed out by "the social aspect" and the "pressure to fit in."
A lot of freshmen also stress about grades.  Jacqueline Barajas (Adv. 300), Anna Mulderink (Adv. 306), and Fajko Karic (Adv. 303) all said that grades and time-management were their biggest stressors this quarter. Karic that "having new teachers and adapting to new teaching styles" can be very stressful for new high-schoolers.
Some freshmen, like Charles Chaiket (307), say that "[the transition] wasn't that stressful." One part of Northside that these freshmen say really helped with their stress is the schedule. Barajas, Chaiket, Posada, and Johnson each cited the block schedule or colloquium as one factor that helped relieve the stress.
The freshmen had some things to say about upperclassmen, too. Some of them found them to be very helpful. Posada, for example, said that "upperclassmen have been great … I've talked to some of them and it really seemed like they want to help."
Many students turn to upperclassmen for guidance. Mulderink said that "senior leaders should find more ways to get in touch with their students" and Barajas said that it would be a good idea for freshmen to "have an upperclassman partner so if they need help, they have someone to speak to."
Many of this year's freshmen made it clear that upperclassmen play a big role in their transition. Fortunately, there are plenty of opportunities for them to connect. Senior leaders in  P.E. class and Peer Mentors in advisory are available to talk to and help freshmen. There may be overlap in colloquiums and sports for people of different grades, and opportunities such as Art Buddies will be starting soon so that freshmen can meet other students with similar interests. There are many opportunities to take advantage of this school year that can help to make the transition easier.
About the Contributor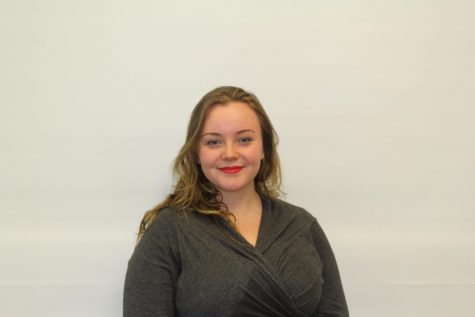 Kiera Steckelberg, Sports Editor: Women




I am the women's sports editor for The Hoofbeat. In my free time, I participate in various sports, including diving, axe-throwing, equestrian vaulting,...