Meet the New Freshman Senators
On October 15th, Leyna Nguyen (Adv. 309) and Numair Umrani (Adv. 305) were elected as the freshmen senators for the 2019-2020 year. Although the competition was tough, with thirteen other competitors vying for the position, Nguyen and Umrani won the hearts of their fellow freshmen through their campaigns. The two newly elected senators were asked a few questions about their lives and becoming a senator:
What interested you in running for Student Council?
Leyna Nguyen: The reason I ran for Student Council was because I want to make a difference at my school.  I wanted to be the person to represent my class in the best way possible and be the voice of their concerns.  My class deserves someone who will make sure all their ideas are heard, and I wanted to be the person who made sure that was exactly what would happen. 
Numair Umrani: I was interested in running for freshman senator because I love being a part of the Northside community and wanted to become a voice for my fellow freshmen. I thought that being part of Student Council would give me a chance to not only represent my fellow freshmen, but also help create an environment where all freshmen feel comfortable in, especially with the transition from middle school to high school.
Are you involved with any other activities around NCP?
LN: I am also involved in stage crew and I love it!
NU: Along with Student Council, I'm also a member of Ja'amah Club, Key Club, Habitat for Humanity, Mikva Challenge, and Certamen.
What's a fun fact most people don't know about you?
LN: A fun fact is that I play four instruments: ukulele, guitar, piano, and the violin.
NU: A fun fact that most people don't know about me is that I like to travel.
What are your plans for this year?
LN: My plans for this year are to get the voice of all the freshmen more involved in decisions and problems that arise to Student Council's attention. I want to get some of the freshman class' own problems solved!
NU: My plans for this year are to become involved at Northside and make sure that the voices of all freshmen are represented in Student Council.
How are you planning to bring the freshmen's voice into the Student Council?
LN: I am planning to bring the freshmen's voice into Student Council with a little bit of help from social media and the internet.  I'll do my best to reach out to everyone in my class about certain problems in and around the school that we, as Student Council, are trying to solve.  I'll collect many different opinions and do my best to make statements to the rest of the Student Council that best represent my entire class. I will also have my email and contact information available to anyone who would like to contact me with concerns they believe should be brought to the council's notice.
NU: I plan on bringing the freshmen's voice to the Student Council by being the communicator between the freshman class and Student Council. In addition, I plan on trying my best to represent my fellow freshmen by taking ideas on what they think could help them be more involved at Northside, more stress free, or just lead to a better 4 years at Northside in general. For example, if many freshmen really want to have off-campus lunch, I would try my best to make that happen at least once a week, or more often if possible.
What are you most looking forward to in Student Council?
LN: I'm looking forward to making everyone feel like they play a part in making our school a better place, and making the changes that need to be done.  I'm excited to make this an amazing school year. 
NU: I'm looking forward to making sure that the opinions of freshmen are taken into account, and that the freshmen feel like their voices are being heard. I also look forward to working with upperclassmen to make Northside an amazing community.
About the Contributor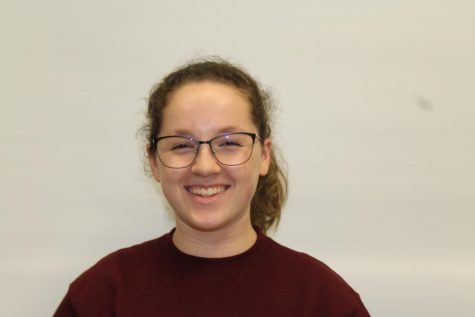 Andrea Prest, Co-Public Relations Manager
I'm the Co-Public Relations Manager for The HoofBeat. Most people would say "the deets," but I say "the tails." Just another explanation of innovation.