Making Marathon Moves
It was that time of year: when the weather started to get colder, the days got spookier, and runners from all over the world flood the streets of Chicago. 
As the Bank of America Marathon is one of the largest races in the world, it is no surprise that roughly 45,000 runners showed up to compete in the marathon on Sunday, October 13th.
The course, which starts and ends in Grant Park, goes through several Chicago neighborhoods including Lake View, Little Italy, and the near Chinatown area.
The Chicago Marathon is one of the flattest marathon courses in the country, which makes it one of the best for people aiming to set a personal record (PR). The weather conditions for the race were ideal, with the race starting off at 46-degrees with 15 mph winds.
Many people use the marathon to qualify for other races like the Boston Marathon, and some runners come aiming for national or world records. However, not everyone that participates in the Chicago Marathon is a competitive runner. The event is open to everyone and first-time marathoners are welcomed. The Chicago Marathon is a friendly environment where everyone cheers each other on. 
The first-place winners of the marathon were Kenyan Lawrence Cherono with a time of 2:05:45 for the men's side and Kenyan Brigid Kosgei with a time of 2:14:04 for the women's, breaking the previous record of 2:15:24.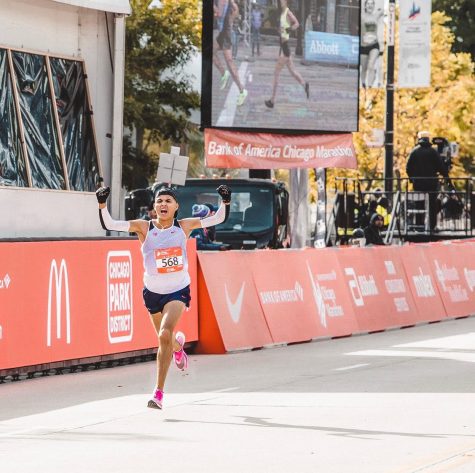 Two Northside students, Seth Karall (Adv. 007) and Jalen Miron (Adv. 010), ran a half marathon in 2018. Karall and Miron are both members of Northside's cross country and track and field teams at Northside, so they are both avid runners.
A half-marathon, though not as long as a full marathon, still takes a lot of training and dedication. To prepare for the marathon, Miron said he ran "at a moderate pace and tried to keep the focus on my cardiovascular endurance rather than speed" while training.
Karall had a different approach. He "started with easier, lower-mileage runs and worked my way into longer, more difficult workouts throughout the six weeks I trained. I made sure to complete long runs of 80-90 minutes, which was the amount of time I wanted to run the half marathon in, so my body wouldn't be shocked by the distance or time I would be running during the race."
Each runner has a different strategy and training that works for them. Both strategies that Karall and Miron used worked for them.
Miron's goal for the half-marathon was to complete the run without stopping because that would have been the furthest that he has ever run consecutively.
Karall plans on running a half-marathon every summer. While it takes a lot of dedication, hard work, and requires keeping his mileage up, it won't be too much of a challenge because Karall is a dedicated runner. Karall plans on running a full marathon one day, but he acknowledges that he would need to "make sure that my training leading up to it is sufficient because the full marathon is such a huge athletic feat."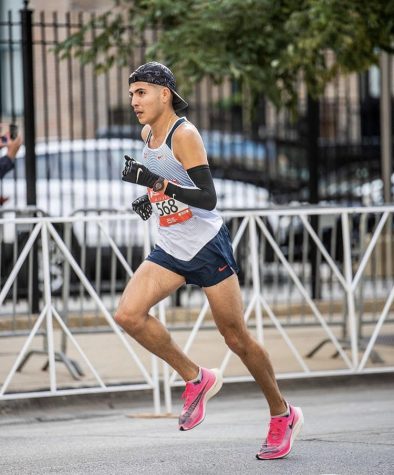 Outside of Northside, Oscar Medina is one of the many runners who ran in the marathon this year. Medina runs for Second City Chicago and has run this marathon two times before. This run, however, was different. Medina said the Chicago Marathon was "more nerve-wracking but exciting" because he had been training for the past year to qualify for the Olympic Trials. The qualifying time for the Olympic Trials is 2:19:00, and Medina had to either match or beat that time. 
About the Contributor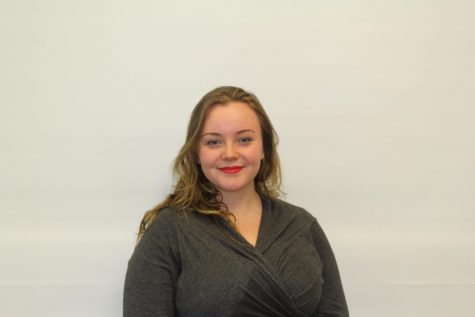 Kiera Steckelberg, Sports Editor: Women




I am the women's sports editor for The Hoofbeat. In my free time, I participate in various sports, including diving, axe-throwing, equestrian vaulting,...