Communities Mourn the Loss of Jack Newhall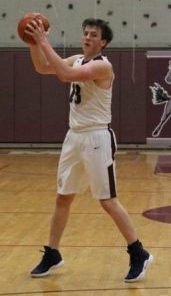 The Northside community mourns the loss of a beloved friend, peer, teammate, and student. Jonathan "Jack" Newhall passed away on Thursday, August 22nd.
Services for Newhall were held at St. Chrysostom's Episcopal Church on Thursday, Aug. 29th. Members of the Northside community joined friends and family across Chicago to pay their respects. After the service, friends and family gathered at the WMS Boathouse for a celebration of Newhall's life with speeches and stories.
Classmate and friend Maria Mendoza (Adv. 000) was in attendance. She said, "Just seeing all the support from all the Northside students, family, and friends and how they all lent me a hand and a shoulder to cry on was really special and I really appreciate that."
Newhall was a member of the Chicago Rowing Foundation Varsity Boys team. The foundation has raised over $150,000 for a memorial boat fund in honor of Newhall. The foundation included the following statement: "He was a selfless young man who lifted those around him by simply being his true self. There was nothing that Jack couldn't do and this example empowered the people around him."
Newhall was also a valued member of Northside's basketball team. Jack Vasilopoulos (Adv. 006), said: "He was the most unselfish player you would ever know. Every time he got the ball he would always find the open guy to score. After witnessing Jack's incredible passing skills and huge hands everyone on the team started calling him 'Big Mitts.' Aside from being a spectacular player, he also was a great leader. Throughout every game and practice, you could hear him yelling positive encouragement. After every bad game of mine, he was the first one to pat me on the back and say to forget about it."
Marcus Zinke (Adv. 002) also shared a meaningful memory from his time with Newhall on the basketball team. "Last basketball season, I went in planning to work super hard every single practice and work my way into actual playing time." However, Zinke realized that despite all of his hard work, he was not going to get as much playing time as he had hoped for. "My effort immediately began to go down, but Jack would motivate me every single practice. His encouragement was the reason I kept working. He actively tried to get me more minutes. The most amazing part was that we often played the same position last year, meaning that if I played more, he would likely play less. But that didn't matter to him as much as supporting his friend."
Beyond these heartfelt experiences with members of sporting teams, Newhall was also generous with his classroom peers. Vasilopoulos said: "Aside from the thousands of basketball memories with Jack, I notably remember him coming into summer precalculus class one morning after going to the beach with a bunch of his friends. After a long night, he came to class and ended up tutoring me and countless other students. He was such a well-balanced person."
Mendoza shared the story of how she and Newhall became close friends. "I met him on the first day of freshman year in Mr. Tabora's class. We hit it off from the start and it was, in a way, sort of magical. There was no negativity between us… After that, we realized we had five classes together. It felt like we were destined to be best friends at that point. And we did become really close. I helped him in Spanish and in turn, he would help me with Geometry. Our friendship kept growing from that point on."
Both students and teachers mourn the loss of Newhall. Mr. Alexander Hughes, counseling, said: "It's always very hard when we lose one of our own and losing Jonathan is no different. Jonathan was a great student and athlete. I was surprised to see how good he was on the basketball court and unbeknownst to him, I have watched him play since freshman year. He is missed, but I am glad to have known him for the time I did."
Sr. Robert Blease, World Language department, also spoke highly of Newhall. He said: "I was Jack's advisory teacher and he was in my Spanish classes the past two years so I got to know him pretty well personally and professionally. I am really going to miss Jack's inquisitiveness and drive. He would always ask questions in, and out, of class about the material we were learning to make sure he understood the concepts the best he could. Every teacher loves to have that type of student. I will never forget him and will miss him dearly. I was so hurt to hear about his passing but his legacy will live on."
Newhall was a cherished part of the Northside community and left a mark on the lives of many people. His loss is deeply mourned by many, but his memory will live on in the classroom, on the basketball court, in the boathouse, and with everyone who knew him.