Meet Northside's Newest Addition: Dr. Eakin
Students who enrolled in computer science classes this year may have noticed that the department gained a new addition to its faculty. Dr. Eakin joined the Northside community as the new teacher for Exploring Computational Thinking and Java and Media Computation.
Dr. Eakin first began studying as a researcher in ecology and evolution at the University of Chicago. Dr. Eakin made the jump to computer science when she realized that she really enjoyed programming, and began teaching herself computer science soon after. She explained how one of her goals as a Northside teacher is to instruct her students on how to program and expand their knowledge on how computers fit into society.
One activity she made her classes do was to count all the computers in the lab. Initially, the students only took into account the computers that sat on the tables, but then she asked the class if their phones were computers, their watches, or their brains.
At the end of the activity there were over a hundred computers in the computer lab. Dr. Eakin spoke about the growing importance of computers in society and the workforce, since technology is prevalent in almost every field. She hopes that by teaching her students the skills in programming she can prepare them for their futures.
Exploring Computational Thinking focuses on introducing its students to the big field of computer science, such as interface design and societal and ethical issues of software engineering. Java and Media Computation consists of the introduction of the programming language of Java through the innovation environment called Alice. In this course, programming is taught by including algorithmic design and object-oriented programming. Skills are developed through a problem-solving approach. The computer science department gives students plenty of opportunities through its classes for students to explore the many branches of computer science.
Dr. Eakin describes her teaching style as more interactive. She does this by asking students questions and as well as making her students engage in group projects. She explained how it is "really a privilege to talk with young people more about computers and being able to increase their understanding". She hopes to make her classes a fun learning environment for students to grow as programmers.
One of her favorite aspects of Northside students is the enthusiasm they exhibit in the classroom. She also explained how the music between the classes is a great feature, and later described Northside as "such a great school".
During her free time, Dr. Eakin enjoys spending time with her children and going on bug hunts with them as well as finding the rare four-leaf clovers. She also explained that she is currently in the process of slowly rebuilding an old house. Dr. Eakin is also a fan of the widely known Netflix Original "Stranger Things" and also enjoys the NBC show "Parks and Recreation."
Make sure to stop by the computer room and give Dr. Eakin a warm welcome to Northside!
About the Contributor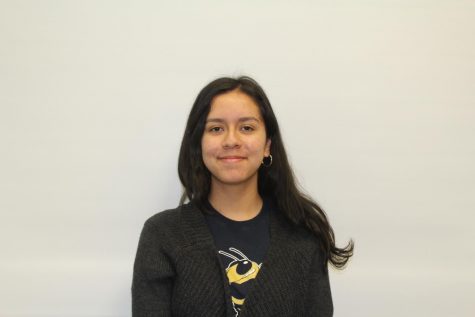 Alina Rivera, Arts and Entertainment Editor: Culture




I am the editor for Arts and Entertainment: Culture. I enjoy going to loud concerts and watching action movies.