Mrs. Barnett Evins: Assistant Principal with Principles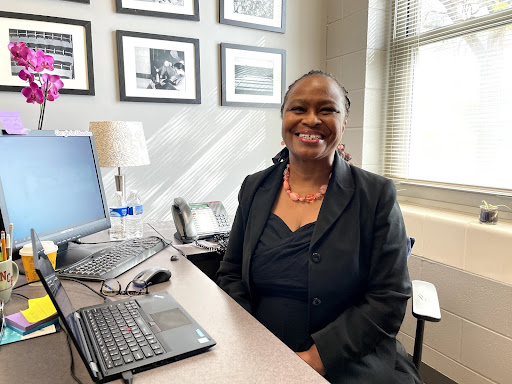 One motivating force for Ms. Barnett Evans to become involved in schools was her family of teachers.  However, "the driving catalyst for me to become a teacher was my own children," she said.
Ms. Barnett Evins joined the Northside community as an assistant principal to Principal Patti Stuber in August. For her first year at Northside, she wants to focus on student advocacy, I-Day, and open communication with students.
A highlight of her first month at Northside was greeting students as they entered and left the building. "If I haven't met every student personally, I've had an opportunity to greet them and to end the day with them … [which] gives me a sense of community," she said.
Ms. Barnett Evins did not always know she wanted to work in school administration. At the start of her career, she worked in adoptions at the Illinois Department of Children and Family Services before switching to teaching high school students at Sullivan High School's Medical Academy. Ms. Barnett Evins's work with leadership teams and the local school council at Sullivan propelled her passion for school administration.
Ms. Barnett Evins pursued this interest as Resident Principal for Gwendolyn Brooks College Prep in the previous school year. Through her work during the pandemic, she learned "building teams and community and social emotional support are just as valuable for adults, as [they are] for young people."
A major factor that drew Ms. Barnett Evins to Northside was its high level of student engagement. "I really am about student advocacy," she said, "and students advocating for their voice to be heard in a structured way."
A goal for Ms. Barnett Evins is to further boost student voices, possibly by making Northside a Democracy School. This formal initiative, funded by the McCormick Foundation, aims to empower student voices and civic engagement in schools.  Through the program, Ms. Barnett Evins envisions a committee of Northside students looking to improve the school community.  "As the adult, I would be there to facilitate and to guide and work with them to ensure that what they're asking for, that we can get it done," she said.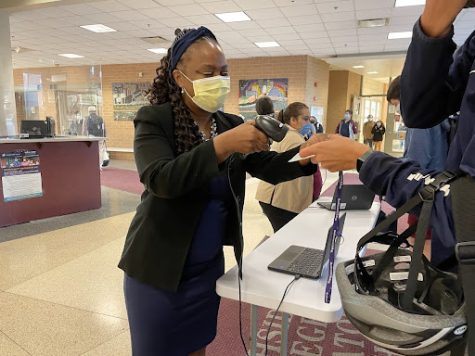 In the future Ms. Barnett Evins hopes to have an "awesome, outstanding, well attended, well organized, engaged, I-Day," Northside's annual dance showcase.  She has been meeting with students and the rest of administration to understand what the event might look like after two years on hiatus.
Throughout her time at Northside, Ms. Barnett Evins wants to continue connecting with students and understanding their unique needs. She said that attention needs to be given to pushing high-performing students forward through higher-level classes.
As she adjusts to her new position, Ms. Barnett Evins continues her quest for knowledge in the university classroom.  She is in her first year studying towards her Education Specialist degree (EdS).  "Being in school and learning a new job is a challenge," she said, "but I'm up for the challenge because I love to educate myself, and to improve myself."
Ms. Barnett Evins balances her responsibilities as assistant principal and as student with leisurely time.  At home, she enjoys playing board games and watching Shark Tank with her kids.  Sometimes she winds down by baking cookies and brownies, a meditative practice she said "reminds me of my mother."  Over the summer, Ms. Barnett Evins enjoys traveling and visiting monuments with her family. The Gateway Arch was her latest monument.
As the school year progresses, Ms. Barnett Evins encourages students and any member of the Northside community to reach out to her. "My door is always open… I'm here to listen and to learn with you," she said.