Melissa Cohen: Supporting Students Through Tough Times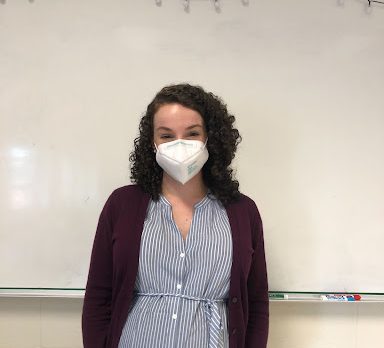 When entering classroom 321 on the third floor, one sees students' work on the whiteboards, calculators on the tables, and at her desk, Ms.Melissa Cohen greets you with her warmth.  Ms.Cohen joined Northside's math department during the 2020-2012 school year teaching freshman and sophomores Algebra and Geometry. 
Ms.Cohen has been teaching for over nine years in Fort Wayne, Indiana, Nashville, Tennessee, and Washington D.C. Even though she has taught in many schools, Ms. Cohen said "every school has its own culture and norms and I think I've found a really great fit for me."
Ms. Cohen's first year at Northside occurred during the Covid-19 pandemic. "Last year was really challenging for everybody, with remote learning and navigating that whole world," Cohen said. "It was harder to connect with students and feel like a part of the Northside community." Despite that, Ms. Cohen encouraged her students to participate and turn their cameras on. 
"Ms.Cohen would always encourage us to participate in class," said Bipa Patel (Adv.406) "it showed she was really determined in our learning, and we all appreciated that" 
Now Ms. Cohen said she can feel the energy again of being back with students and faculty. "Some of my favorite moments are when you're engaging and interacting with students and having authentic conversations with them that you may not have had online through a screen," she said. 
In her free time, Ms. Cohen enjoys running and reading. She is also very fond of baking brownies and bread to relieve stress. 
Ms. Cohen will soon depart for a maternity leave. She said "it is definitely weird to know that I'm here and then I'll be gone for a little bit and then I'll be back."
"I've never taken leave before so it is strange to think about," Ms. Cohen says. Nevertheless, students and faculty at Northside will welcome Ms. Cohen back with open arms.