The Women's Water Polo Season: New Team, New Protocols, Same Spirit
The Northside water polo team's season is well underway. This season, which officially started on March 22, 2021, has been unlike previous ones. A smaller team, new Covid protocols, and a few other changes in the dynamic of the team have made this season especially unique.     
In previous years, the Northside women's team was a joint team with Von Steuben High School; however, this year the teams have separated. Senior Co-Captain Jazmin Santigo (Adv. 100) said, "I think everyone misses the girls from Von Steuben. The separation has made the season different for sure, but it is quite possibly better for health reasons… [W]e are glad to see that both teams are doing well after the separation." 
Because of the pandemic, the team has to be incredibly flexible adjusting to a new schedule. Santiago said, "Practices are held at 4:00 pm to allow students to commute to the school. Unlike previous years, there are no morning practices and there is no access to the locker rooms to change." Another change is that there are no tournaments due to capacity limits and to avoid games with schools not in the team's region. 
During games and practices, players cannot wear masks because they are in the water; however, Santiago mentioned the chlorine in the pool and the required masks on deck made her less concerned about the risks of transmission. Social distancing is also maintained on deck, and the usual post-game handshakes are no longer allowed.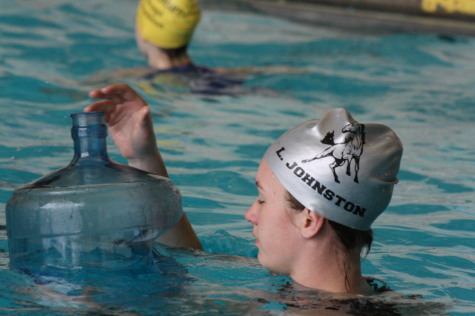 As is typical with all sports and in-person activities during the pandemic, players must complete the daily screener and have their temperature checked before practices and games. Nevertheless, freshmen, especially, are grateful for the opportunity to be a part of a Northside team and make friends on the team. Freshman Shannon Lui (Adv. 405) stated, "My favorite part of being on the water polo team is the team bonding…The thing that surprised me was how much water polo can help people bond…[I]t's a team that requires communication." Lui also said that she already knew many of the girls because they were on the swim team in the fall together. 
"
My favorite part of being on the water polo team is the team bonding…The thing that surprised me was how much water polo can help people bond
The water polo season is currently set to end their season in May, earlier than usual due to Covid. However, the players are grateful to have this season in whatever form it takes in this strange school year. Santiago said, "I think the team is happy that there is a season this year… We are all excited to be back in the water again."
Despite no spectators being allowed on deck, you can still support the team. Santiago said, "You can watch outside of the school by the soccer fields and cheer on the team!"