Poms Season Starts Anew
On Wednesday, January 27, the IHSA Board of Directors met to discuss the upcoming schedule for sports in the remainder of the 2020-2021 school year. With much anticipation surrounding this announcement, the IHSA Board released a schedule that adhered to its goals during the pandemic: "providing an opportunity for every IHSA student-athlete to compete safely this year and maximizing opportunities for traditional IHSA spring sports after they lost their entire season a year ago." 
The Northside College Prep Poms team is among the many sports now approved to start their season. The Poms team is known for their iconic, energetic performances during basketball homecoming games and impressive city championship titles. Now with the IHSA's decision to allow sports teams to begin practices, the Poms team has an opportunity to make this year's season just as memorable. 
I spoke with one of the Poms team's captains Jadyn Vrbancic and returning member Miranda Ludwig about their perspectives on this year's season. 
Jadyn Vrbancic (Adv. 108)
How has the pandemic affected Poms activities? 
Poms has been COMPLETELY different this year with Covid being in the picture. We held entirely virtual tryouts in November and were only recently allowed to have in-person practices. At this point in a normal year, we would have been nearing the end of our season, focusing on senior day, performing at the remaining basketball games, and winding down from the craziness that comes with competition season.
How do you think your first practice went with the social distancing and safety precautions?
The first practice was definitely successful with the safety precautions in place. I think we were all just really excited to finally be able to meet and ready to dance as a team again in a safe way.
What do you think the Poms season will look like this year?
It's definitely been slightly challenging to know definitively what our season will look like this year, especially since we started much later than we typically would. However, I think this year will generally be one for us to hone in our skills and just be a team again. The pandemic has made us all so isolated, and while we most likely won't be competing or performing much this season, it has brought us back together.
What are some things that you are looking forward to this season?
I'm looking forward to getting some extent of normalcy for my senior year and getting closer to everyone on the team!
What does being a part of Poms mean to you?
Joining Poms my sophomore year was what truly made me feel like I found my place in the Northside community. I am a pre-professional dancer outside of school, and it brings me a lot of joy to be able to bring my passion into school and share it with the others as a captain of the team.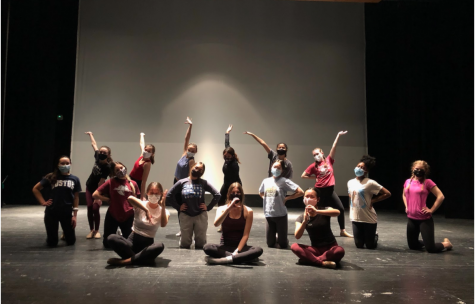 Miranda Ludwig (Adv. 103)
Did you have any worries about coming back to in-person practices? 
I definitely thought about how there would be a lot of us coming together, and we each interact with our own various sets of people whether it be family or friends, so I knew there would be some level of risk. But at the same time I feel more comfortable in a poms practice than doing other regular tasks like getting groceries because at least for poms, we are all getting our temperatures checked and have a big open space to use. I trust that my teammates and Coach Duerst have safety in mind and prioritize it. 
What are some things that you are looking forward to this season?
Since I don't think there are any real performances or competitions for us this season, I'm just looking forward to having a complete routine put together for fun; it's always satisfying to complete a full run-through of an entire routine.  
How did it feel to be back practicing with your teammates? 
Walking into Northside and seeing familiar faces waiting outside the auditorium felt surreal yet normal as if nothing had happened. While it was great to see the teammates that I've known for a long time, what surprised me was how much I appreciated being able to talk to people that I'm not necessarily close with and wouldn't have reached out to online. The team dynamic is a little different since over half of our team are new members, but it was much nicer to meet everyone in person compared to our zoom meetings. We practiced a lot of standard technicals, like turns and jumps that are in almost every routine, and going through those motions again was almost comforting because of the familiarity.
What does being a part of Poms mean to you?
I feel like being a part of poms is a way to spread good energy. During a normal season with pep rallies and basketball games, it feels good to go out on the gym floor or a stage and share everything we've worked on and then see the energy from the crowd reciprocated back to us. Through poms, I've experienced personal growth and a lot of good memories; being a part of this sport has definitely been a highlight of my time at Northside.