Amanda Gorman: National Youth Poet Laureate and how NCP Students Reacted to Her Poem
As Michigan Senator Roy Blunt walked up to the podium, everyone waited in their seats to hear the inauguration poem. What many might not have expected is to hear the poem being read by someone so young, or for it to hit as hard as it did.
Amanda Gorman, the National Youth Poet Laureate from Los Angeles, California read a very powerful poem that brought up many of the issues the nation has faced in the past, issues the nation is currently facing and the strive to overcome them in the future. 
Some of the issues that Gorman touched on were those of slavery and some of the struggles of being black in America as well as the struggles of single parents such as her mother.  
Gorman lived in Westchester and went to school at New Road School, reportedly a  "socioeconomically diverse private school in Santa Monica" by the L.A. Times. Gorman originally became the youth poet laureate of Los Angelees when she was 16, later becoming the national youth poet laureate three years after.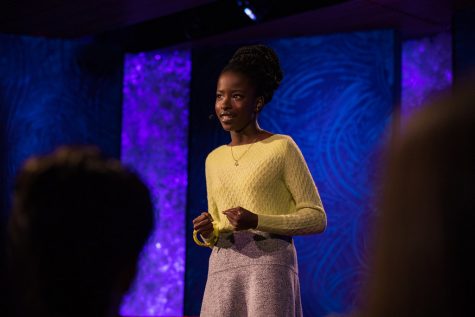 When asked about her initial reaction to the poem, NaNoWriMo participant Leyna Nguyen wrote, "I thought the poem was breathtaking so much so that I even held my breath.  It is one thing to be able to write poetry, but the way she performed it was so beautiful, I loved the way each line smoothly transitioned to the next, like a long train of thought." (Adv. 309).
In response to how they thought poetry impacts the nation and the world, Annabel Faircloth wrote, "Art is a reflection of feelings that can't necessarily be expressed conventionally. Spoken poetry especially can change hearts and give a voice to those who haven't been given the opportunity to speak." (Adv. 102)
We also asked a member of the Northside's slam poetry team what they thought about the event and the poem reading. 
After reading the poem, Northside Slam Poet Sadia Haidari (Adv. 206) wrote, "The poem impacted me because it reminded me that many times, especially now, we are passive on issues and wish they would go away, but never take steps to try and combat those issues. Gorman prompted the audience to engage in political activism because without making that effort, these issues will be swept under a rug until they get worse again." 
"
Gorman's poem reached far and wide, reaching the hearts and homes of students everywhere including here in our Northside home.
When asked about the impact of the poem, Haidari wrote, "The poem, and poetry in general, are often intended to give perspective on things that you may personally experience or know is occurring. I think poetry opens up a conversation in an artistic way so that people can empathize and have a deeper connection to the topic you speak on, rather than a formal approach." (Avd. 206). 
"Gorman's poem, specifically, put people on the same page and drove home the idea that we should have a government that serves its people best." (Adv. 206). 
Overall, Gorman's poem reached far and wide, reaching the hearts and homes of students everywhere including here in our Northside home.