Movies to Make Room for This Halloween
It's October, the spooky season! What better way to enjoy our virtual environment than watching spooky and Halloween themed movies? Here are a few suggestions:
"It's The Great Pumpkin, Charlie Brown"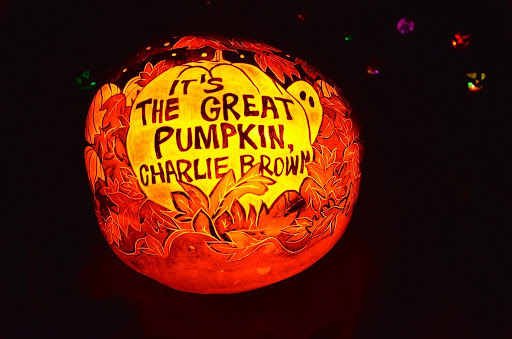 This exciting Halloween themed movie is a crowd-pleaser. "One of my favorite Halloween movies is 'It's The Great Pumpkin, Charlie Brown'" said Charlotte Prus (Adv. 208). "I have always loved the Peanuts characters and the movie is such a classic. I've watched it every year for as long as I can remember. It is so funny and never fails to make me laugh." This movie is loved not only by our fellow Northside student, but the general public, as it has 94% Rotten Tomatoes. This childhood Halloween movie won't disappoint!
"It"
This movie, released in 2017, still appears at the top of several horror movie lists in 2020. This horror movie, featuring the infamous clown Pennywise, is great for this spooky season! This movie has earned Best Horror Movie of the Year from Golden Schmoes, Best Horror from Golden trailer, MTV Movie Award for Best On-Screen Duo, and more! 
"Get Out"
This movie has a whopping 98% on Rotten Tomatoes and is definitely a great movie for the spooky season. This satirical horror movie is about a twist of horror. The main character, Chris, finds out that meeting his girlfriend's family is going to be more than he expects. This movie has won over 20 awards (NAACP Image Award for Outstanding Directing in a Motion Picture, NAACP Image Award for Outstanding Writing in a Motion Picture, New York Film Critics Circle Award for Best First Film, and even the Academy Award for Writing.)
These are some of the most popular Halloween movies out there! Halloween is definitely a fun holiday, and its festivities carry on throughout the spooky season. Some honorable mentions are "Hocus Pocus", "Paranormal Activity" films, and "Train to Busan."
Here are some additional resources for finding more movies for Halloween and watching the movies listed above: 
Cox, D. (2020, September 10). 12 of the Best Places to Watch Free Movies Online. Retrieved October 21, 2020, from https://www.ajc.com/news/12-of-the-best-places-to-watch-free-movies-online/TRCYAL7HYFB7VGVJXI6L3SPDBA/ 
Puckett, L. (2020, October 16). 37 Best Halloween Movies of All Time. Retrieved October 21, 2020, from https://www.goodhousekeeping.com/holidays/halloween-ideas/g29579568/classic-halloween-movies/
Staff, C. (2020, September 20). Your Guide to the Best Halloween Movies of All Time. Retrieved October 21, 2020, from https://www.countryliving.com/life/entertainment/g3624/best-halloween-movies/ 
Stream TV and Movies Live and Online. (n.d.). Retrieved October 21, 2020, from https://www.hulu.com/welcome 
Unlimited movies, TV shows, and more. (n.d.). Retrieved October 21, 2020, from https://www.netflix.com/