The First Day Through a Screen
When thinking about the first day of school, you may imagine students flooding into the building. They don new backpacks and fresh outfits, ready to talk to the friends they haven't seen since June. The first day of school looked different this September 8th.
Chicago Public Schools announced in August that students would start the year fully remote due to the COVID-19 pandemic.
Last year's remote learning plan did not set specific guidelines for synchronous time between students and teachers. This year's plan, on the contrary, requires students to stay on Google Meet with their teachers for the majority of the school day. This allows them 20% of the school day to work asynchronously.
Many students were worried to start the school year. Remote learning can be challenging for those that are not familiar with the format or the technology platforms. "I expected the first day to be pretty messy," said Senior Katrina Chiong (Adv. 103) "I expected students to get on the Meet late since it is a new format."
Northside held virtual first day student support for those who were struggling to find their classes. "On Tuesday, the first day of school, we will be hosting virtual office hours for students that are unable to find their class or have other questions that can be answered quickly between classes," Principal Kelly Mest wrote in an email to Northside st
udents.
Some had technical difficulties during class. "My WiFi wasn't working at first so I had to move to three different locations," said Freshman Mia Kapsalis (Adv. 401). "My dad had to rush and fix the WiFi."
However, others saw the benefits that remote learning could provide. "You can go to the bathroom when you want, you can get up and get snacks during class," said Chiong. Since teachers allowed students to turn off their cameras if needed, students could listen to lessons without the pressure of being seen by the whole class.
This leniency with camera usage comes along with an array of other Community Norms for Remote Learning. These norms are intended to help students, teachers, and parents during remote learning.
Teachers also had to find new ways to teach and foster interactions with their students. Many teachers turned to programs like Peardeck and Nearpod, where students could submit answers to questions anonymously to the class.
"I didn't have much experience with the different platforms," said Ms. Catherine Irving, World Studies and AP European History teacher. "But, it felt so much better since we knew it was coming. I felt prepared." She contrasted this year's remote learning plan with last year's, which caused uncertainty among teachers and students.
For freshmen, their first day was also their first time meeting many of their peers. "I was excited but nervous," said Freshman Caiden Reichmann Crowley (Adv. 408). "Everyone was really nice, even though it was a bit awkward." Eventually, many of the students loosened up and created group chats on social media where they could connect virtually.
Though remote learning posed some challenges, students and staff managed to get through it by actively supporting each other. "I felt tremendous support everywhere," said Ms. Irving. "Teachers were supporting students, students were supporting teachers, teachers were supporting teachers, and students were supporting each other in the Google Meet chat."
About the Contributor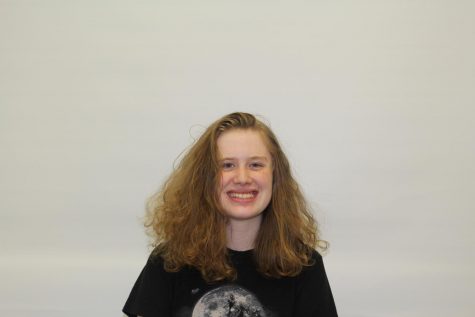 Iliana Garner, Assistant Editor




Iliana is a junior at Northside and is the Assistant Editor of the Hoofbeat. She loves being a part of The Stampede yearbook committee as the co-editor-in-chief...