Netflix and Quarantine
With the COVID-19 pandemic resulting in lockdowns across the globe, there's no denying how much the outbreak has altered our day-to-day lives. And while social distancing may have gotten spirits down, we can still remain connected with friends and family–remotely, of course. Netflix Party is a great way to ease the lack of socializing we've all been experiencing during this unprecedented time. The Google Chrome extension allows Netflix users to sync the streaming platform with friends and family and watch the same show or movie at the same time. There's even a chat feature that allows the exchange of thoughts on what you're watching in real-time. Here are reviews of some new shows and movies available on Netflix to inspire your next virtual watch party.
The Half of It
PG-13 | Comedy, Drama, Romance | 1h 44m
This film features a queer Asian American protagonist, Ellie Chu, an introverted and shy straight-A student. Through charging for assignments she completes for other students in order to help her father pay house bills, she meets Paul, a sweet yet inarticulate football player. Paul asks Ellie for her help in writing a love letter to win over a popular girl Aster Flores's heart. Ellie and Paul develop a friendship through her writing love letters and text messages to Aster (for Paul), but complications arise when someone along with Paul discovers feelings for Aster.
I enjoyed the unexpected friendship between Ellie and Paul that not only formed but grew from the beginning to the end of the movie. The film focused on the idea of what it means to love, which is different from the focus of many teenage/highschool love stories on Netflix. Overall it is a unique story and I enjoyed the ending of the movie for Ellie.
Outer Banks
TV-MA | Action, Crime, Drama | 1 season | 10 episodes
Convinced his father is still alive after months since his disappearance, John B sets off on a search to find answers. He enlists his small group of friends, known as the "Pogues", a group of teens living on the south side of the Outer Banks in North Carolina, the working class of the town. Along this journey, the group finds clues to a legendary treasure, a treasure both linked to John B's dad that sparks a chain of illicit events and high-stake decisions.
A perfect quarantine binge, the show's plot always had me ready and anxious to click "next episode". Additionally, watching the unbreakable and strong friendship between the Pogue's throughout the show was wholesome despite the gravity of the situation they were involved in. SPOILER: JJ and Kiera should really get together, a much better duo in my opinion than John B and Sarah Cameron.
Tiger King
TV-MA | Documentary, Crime | 1 season | 8 episodes
This 8-episode limited series documents the world of big cat owners through the life of a popular and controversial private zoo owner, Joe Exotic. The show's plot revolves around Exotic's rivalry with big cat conservationist, Carole Baskin, who threatens to place exotic animal collectors- and Joe specifically, out of business. The rivalry grows to the point of Joe Exotic being caught in a murder-for-hire plot.
This is definitely a unique series, yet its absurdity was exactly what had me watching more. I think this is one of the shows one should watch on Netflix Party, as you can chat so much with your friends and family on the many remarks and actions in each episode.
Never Have I Ever
TV-14 | Comedy | 1 season | 10 episodes
This coming-of-age comedy centers around the life of First-Generation Indian American highschooler, Devi, who has a short fuse and must deal with her father's recent death along with her sense of identity.
The series was light and fun. Although some viewed it as cringe, that's exactly what I found funny. This is additionally a show from the perspective of an Indian American teenage girl, showing the culture and life of Devi, an angle I had never seen before. I binge-watched the show in two days and overall loved the balance between humor and emotion throughout the show. SPOILER: I loved the ending as well, an unexpected romance for Devi and she seemed like a changed girl on her path towards genuine happiness and goodwill.
All the Bright Places
TV-MA | Drama, Romance | 1h 47m
A film based on a novel by Jennifer Niven, that revolves around the lives of Theodore and Violet, two teenagers in high school who met on unique circumstances (no spoilers here). Their companionship helps each other slowly heal from past traumas, along with creating a journey in which they discover the meaning and significance of the small things in life.
From the start, the movie had already made me a bit emotional. I enjoyed watching Theodore and Violet's story act as a realistic representation of mental illness and its impact on an individual's behavior and relationships with others. Their relationship was "wholesome" and due to this, the ending brought the largest amount of tears I have cried in awhile. At the end of the movie, Violet read out these words for a school project: "There's beauty in the most unexpected of places…there are bright places, even in dark times…If there isn't, you can be that bright place-with infinite capacities."
All Day and a Night
R | Drama | 2h 1m
Jahkor, a young African American man from Oakland, California, must deal with the consequences and repercussions of homicide while in the same prison as his dad. While in prison, he embarks on an unexpected journey of self-discovery as he reflects on his life and the events that led to the tragedy he had caused. The movie begins with Jahkor committing murder and moves along with his reflections with flashbacks of his life before.
Many online reviews have criticized the plot and overall significance of the movie, even labeling it as a "hood movie." But if you watch properly, it's clear that the film represents much more. The film depicts multi-generational struggles (centering around the African American minority), complex father-son relationships, and the fight to break the cycle bred by systemic poverty and a pipeline to prison. SPOILER: I was happy to see Jahkor's change of mindset at the end of the film, as he makes it a goal to serve as a proper father figure to his son and break the cycle in his family of violence and abuse.
About the Contributor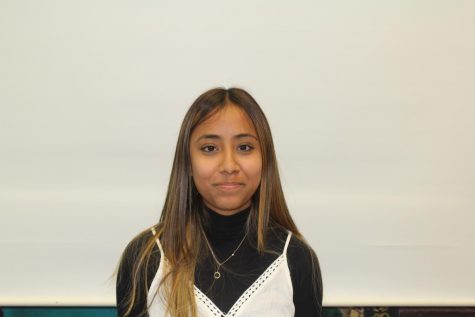 Araceli Urbina, Co-Photo Editor
One of Hoofbeat's Photo Editors. The type to enjoy setting up monthly playlists on Spotify.