Celebrating Seniors During Quarantine
2020 has taken its toll on graduating classes. The COVID-19 pandemic has affected the graduation celebrations of millions of college, high school, and elementary school students. However, these circumstances haven't prevented companies, families, friends, and schools from trying to give their graduating students a proper send-off into the next chapter of their lives.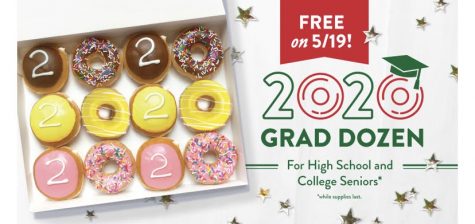 One company that jumped in to celebrate seniors is Krispy Kreme. On May 19, the company offered all graduating seniors a free dozen donuts in celebration of their accomplishments. Seniors quickly flooded Krispy Kreme shops across the country, waiting in lines for several hours for a chance to receive the "senior edition" donuts.
Alongside companies, many celebrities have come together to host virtual graduation ceremonies. One popular example of this was Graduate Together, which featured speeches from many celebrities, including Zendaya and Barack Obama. In addition, there were performances and short films in the hour-long video.
While the actual event of graduation varies by location, the Chicago Sun-Times has shed some light on how Chicago Public School students will be graduating this year: "After previously indicating only virtual ceremonies would be allowed, CPS officials now say drive-through graduations and celebrations featuring staff visits to graduates' homes are OK as long as safety precautions are put in place and strictly followed."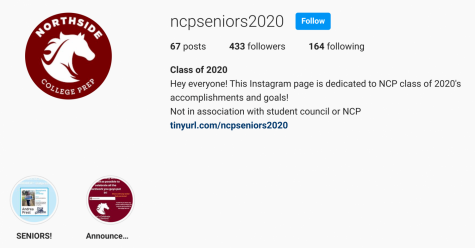 Hitting closer to home is the NCP Senior Instagram page (@ncpseniors2020), celebrating our own Mustangs. The account, run by Johnathan Alday (Adv. 105), Emily Phan (Adv. 105), Daniel Feng (Adv. 103), and Sara Lin (Adv. 206), features Northside seniors on each post, highlighting future plans, accomplishments, and fun facts. "Because of the unexpected quarantine, most of the annual senior year traditions were cancelled," the students said. "We decided to dedicate this Instagram page for all the amazing hard work the seniors put into their high school career/life and the future aspirations they have in the future!" In order to get featured on the NCP seniors Instagram page, go to tinyurl.com/ncpseniors2020 and fill out the form.
"It was really unfortunate that all the senior activities we most look forward to were cancelled, but the small things like the 2020 seniors Instagram page makes the situation a little better," said Kara Beigh (Adv. 007)
Northside's graduation ceremony will still be held on June 8th, with some modifications that include a virtual brunch, drive-thru procession, and virtual commencement ceremony. Seniors may pick up their caps and gowns, diploma cover, and other gifts during their scheduled time slot on June 3rd.
About the Contributor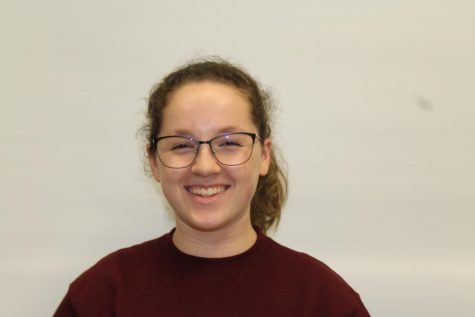 Andrea Prest, Co-Public Relations Manager
I'm the Co-Public Relations Manager for The HoofBeat. Most people would say "the deets," but I say "the tails." Just another explanation of innovation.