Amateur Baker and Law and Order SVU Fanatic: The Newest Addition to the English Department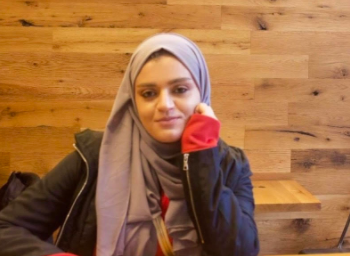 Yasmine Imtairah, amateur baker, Law and Order SVU fanatic, second-generation immigrant, and now, most recently, English teacher at Northside College Prep.
Where are you from? How does Chicago compare?
I am a second-generation immigrant born in a small town outside of Chicago. Both of my parents were born and raised in Palestine and came to Chicago over forty years ago to build a better life. They came separately with their families after the 6-day war in 1967 in which over 300,000 people were pushed to flee the country as a result of the increasing Israeli occupation. Growing up, we lived outside of Chicago. Then we moved back into the city, where only a small chunk of my family lives. The rest of my extended family lives in Palestine. So I had to answer the question where are you from? But where are you from from?
We go back to Palestine every summer for months at a time, so I guess I'll talk about how both compare. The small town I first lived in was typical for small-town life: not very diverse, few minorities, less busy than the city. Palestine is night and day compared to Chicago. The whole economy, government, culture is different. People there lack basic human rights due to the harsh restrictions. I could go on but I think this is too long already…
Did you work any teaching jobs prior to this one? If yes, what have you learned from that previous job?
Yes, I worked one teaching job at Lane Tech High School. Prior to this, I worked five years as a mentor at different high schools in West Side neighborhoods. I worked through a program called Gear Up, which aims to help students with their post-secondary plans while helping to ensure academic success in high school. Both of these jobs were incredibly enriching and gave me perspective on education in CPS.
Are there any clubs that you would be interested in starting or sponsoring at Northside?
Yes, after looking through the clubs more thoroughly today, there are many that interest me: Common Ground, Global Givers of Northside, Arab American Association/Dance, Penpal club, Defining Justice, Jama'ah Club, Yoga Club, Students United for Change
I would be interested in starting a Current Events club, in which students choose recent news stories and come together to share their thoughts. I would like to foster a safe place to do so as well as understand/challenge the different ways specific topics in the news are being presented
Any interesting hobbies that you would like to share?
I love cooking/baking! I've always been a foodie. Growing up, food has always been a huge part of my life just because it is huge in Middle Eastern culture. In a traditional Middle Eastern home, most of your day is centered around the food (buying ingredients, prepping, cooking, cleaning) which usually takes hours. Being in the US inspires me to create new recipes applying a twist on Palestinian and American cuisine.
Traveling – I made a decision to travel somewhere new each year. Last year I went to Egypt, this year I (hope) to visit a different country in Europe, but I was in The Netherlands already in January. I'm happy to have gone somewhere right before Coronavirus took over, and I may just have to call it a year with traveling.
Exercising outdoors like going for runs/walks/hikes
Spending time with my family
Watching Law and Order SVU (I always saw myself being the first Arab detective on the show until Jamie Gray Hyder beat me to it [sad face] in season 21, which ended on Thursday).
"
It's like its own little self-contained, self-functioning community, which is super admirable!"
Anything specific that interests you about Northside?
Yes, I love how wholesome it is. I don't know how to best describe it. It's like its own little self-contained, self-functioning community, which is super admirable! You feel like everyone is just so unified at Northside. I also admire how hardworking and driven the students are.
What initially got you interested in teaching Language/Literature?
Well, communication is everything! I think it's more important than many people realize. Same with literature, to understand literature is to better understand people/the world around us. I fell in love with story at a very young age. As a second-generation immigrant, it helped me find ways to connect with others. Storytelling was also huge for me growing up. It is a part of my culture– it doesn't matter how old the story is or how many times I've heard it, my father or uncles will keep retelling the same stories over and over again to relive memories and preserve the past.
I have also always had an interest in languages and learning different ways of communication. Speaking Arabic definitely fueled my interest further because it is a super figurative language.
I hope to go back to school one day to study Educational Psychology. After taking a couple of Ed Psych courses in college, I have also always had a deeper interest in how we learn as individuals and what are the best practices to do so.
"
Storytelling was also huge for me growing up. It is a part of my culture."
If you could only teach one book, what book would that be and why?
The Spirit Catches You and You Fall Down by Anne Fadiman
It's packed with many different ideas like psychology, cultural assimilation, immigrant struggles, and American medicine. It is great to show students the importance of understanding story because it really makes you think about the detrimental effects of all of these ideas clashing together. Also, because of its multitude of themes, it gives a lot of space to be taught alongside other stories
Any general pieces of advice for students who may have you in the future? E.g., pet peeves, fun facts etc.
Be honest
Communicate when you need help
Try to step out of your comfort zone
Work hard and do your best
Be open to others' ideas
Welcome, Ms. Imtairah!
About the Contributor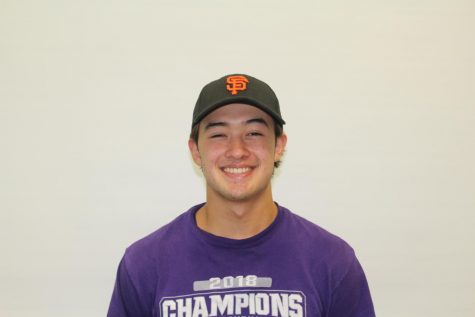 Jacob Trick, Sports Editor




Jake Trick- Sports Editor. Unironically uses the words "Bruh" and "Raw."