Northside Goes "Into the Woods" for this Year's Spring Musical
This year, Northside's annual musical was "Into the Woods." The play was directed by Ms. Martinez (Fine Arts Department) and featured 38 student performers.
The musical performances occurred from Feb. 13 to Feb. 16. Set in the magical woods, "Into the Woods" tells intertwining stories of many classic fairytale characters. The story follows the baker and his wife as they attempt to break a witch's curse that prevented them from having a child. Their tasks involved finding a cow as white as milk, a cape as red as blood, hair as yellow as corn, and a slipper as pure as gold. Jack, from the tale of Jack and the Beanstalk, owned the cow as white as milk; Little Red Riding Hood owned the cape as red as blood; Cinderella owned the slipper as pure as gold; and we all thought that Rapunzel had hair as yellow as corn, but there was a slight twist- it was actual hair of corn. Who would've thought?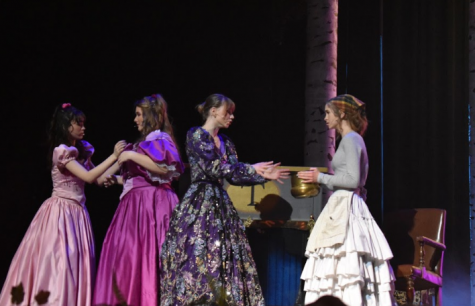 David George's (Adv. 100) favorite part of the musical "was probably the part that most people hate: tech week. I loved staying up so late rehearsing and just doing what I love." Tech week, for those who aren't well-versed in theater lingo, is when the whole cast stays after school until 10:30 p.m. the week of the musical to do full run-throughs and ensure that everything will go smoothly for the actual show.
The "Into the Woods" cast started rehearsals in late October once a week until around 4:30. Rehearsals gradually became more often and went later, until they were in the auditorium every day until 10 p.m. and on Saturdays from 10 a.m. to 4 p.m.
While this was Samantha Ringor's (Adv. 001) last Northside musical, she did not let that sadden her. She wore a smile and kept her excitement up for the show. Samantha felt "amazing" about the musical. "Into the Woods" is one of her favorite musicals so she was so excited to find out that this was the musical this year. To prepare for the show, Samantha took notes on what she needed to "rehearse and memorize".
The show was enjoyed by many Northside students. Margaret Keilman (Adv. 005) said "I really enjoyed it! I wish I could see it again."
This year's musical was filled with impressive singing, exciting magic, and terrifying giants: the perfect combination for a fantastic musical.
Cast
David Dobria- Narrator
David George- Baker/Cinderella's Father
Alan Golik- Baker/Cinderella's Father
Samantha Ringor- Baker's Wife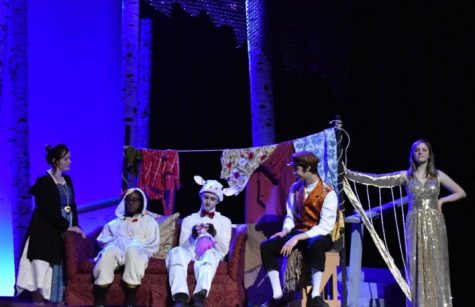 Tessa Martinez- Witch
Clare Mulholland- Cinderella
Janie Toft- Stepmother
Mia Finley- Lucinda
Hannah Fitzmaurice- Florinda
Luke Rodgers- Jack
Annabel Faircloth- Jack's Mother
Abbie Kelleher- Red Riding Hood
Nick Kapp- Wolf
Izzie Velez- Grandmother
Gigi Calcagno- Rapunzel
Nick Kubiak- Rapunzel's Prince
Ben Katz- Cinderella's Prince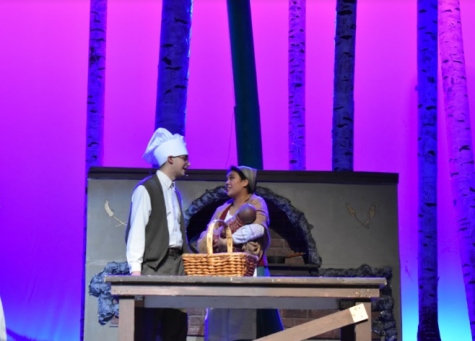 Mario Hernandez- Mysterious Man
Anton Outkine- Milky White
Jack Murray- Steward
Vivian Zagotta- Giant/Ensemble
Ensemble
Amelia Baurer
Ebenae Bekoe
Brooklyn Bielke
Hailey Carter
Urja Chakraborty
Alli Feeney
Felix Fieldman
Alex Garcia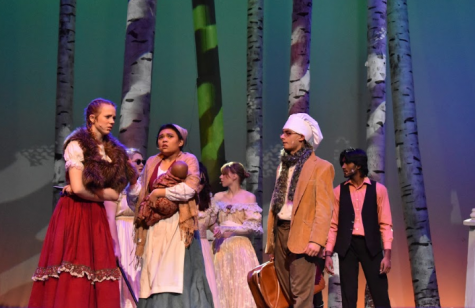 Iliana Garner
Ana Girma
Chloe Johnson
Lola Prisca
John Reyes
Lillian Robinwhite
Nikki Sodini
Simon Carter