Poms Powers Through City
The Northside College Prep poms team won the city championship on Jan. 19.  The victory marks the team's third city championship in four years. This kind of success is unsurprising for the poms team, but impressive nonetheless. This year's poms team was not satisfied with a city championship. With a stunning performance at sectionals, the team advanced to the state competition for the first time in Northside history.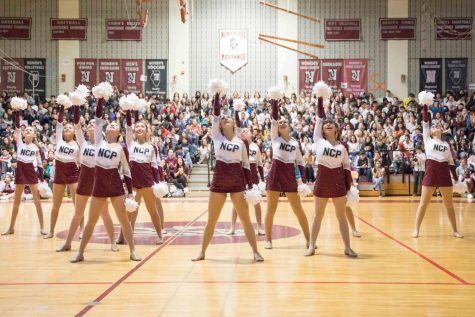 The future of this poms team is bright as they are led by junior captains Naomi Leadbeater (Adv. 103), Jill Mark (Adv. 108), and Jadyn Vrbancic (Adv. 108). It's rare for a varsity team to be captained entirely by juniors, and it is even more impressive for it to have such success.
The competition Northside faced at state was tough, but the young team looks to make the event a learning opportunity for years to come. After a stretch of practices every day and multiple performances per week, their successful season finally begins to draw to a close. Their senior day was Feb. 27, and provided them with a time to reflect on their accomplishments. Congratulations to the poms team on their success, and we wish them the best of luck in the next year.